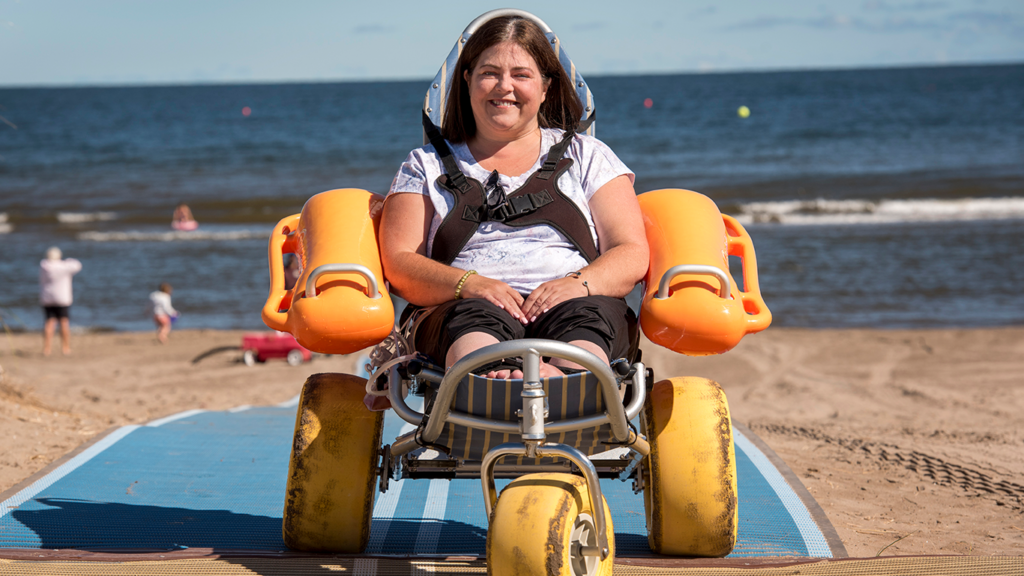 Theresa MacLeod used to be a "beach bum" – spending countless summer days working as a lifeguard and swim instructor.
Then a diagnosis of neurosarcoidosis, a disease that causes inflammation in the nervous system, changed all that: for the last five years, Theresa has needed a power wheelchair to get around.
That put an end to her beach days, or so she thought.
Then she learned from Ability New Brunswick about new accessibility features at Parlee Beach, including beach mats and beach wheelchair. 
The first time she used the mats and chair earlier this summer, she wept.
"I was able to get into the saltwater with the beach wheelchair – able to get right in there and float. I cried," says Theresa, a 49-year-old from Moncton.
She keeps a jar of sand and shells in her kitchen window as a reminder of that day.
"The fact that this beach was now accessible to me, it was such a joyful, overwhelming experience," she says. "It was wonderful. It's fabulous. To actually get onto the sand and then into the water is breathtaking."
Theresa notes that the mats and chair make the beach more accessible and enjoyable not just to people who use wheelchairs or strollers but to all sorts of people at different levels of ability, including young children and the elderly, who often find the soft and deep sand difficult to navigate.
Ability New Brunswick is working with the provincial government to provide advice and insight to make provincial parks, such as Parlee, more accessible.
Brendan McGuire, guest experience and program co-ordinator with Parks New Brunswick, says the beach mats and chairs have been a "wonderful" addition to the beach that have gotten plenty of use.
"We couldn't be happier," he says. "We wouldn't have been able to make all the strides we have in accessibility without Ability New Brunswick and all their advice and support."
Through Ability New Brunswick, Para NB offers a free accessibility review service, providing formal reviews of sport and recreation facilities, parks, playgrounds, campgrounds, trails, beaches, schools, churches and more to promote a truly inclusive environment for persons with a mobility disability.
Parlee Beach has made other accessibility improvements too, including to parking lots and washrooms and the work continues, Brendan says. And he says the experience will inform future accessibility work at other provincial parks.
When Theresa became a wheelchair user, she assumed she would never get to enjoy the beach again.
"I missed it and kind of grieved it." she says. "But then to have it reborn again in this way is really exciting."