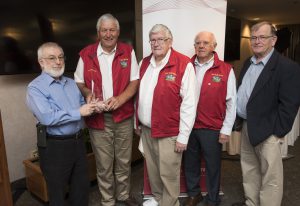 Caring Community Partner Award: KV Old Boys
Our Caring Community Partner Award is awarded annually to a person or organization that has made a significant contribution to our organization such as a commitment to service, in-kind or volunteer support, or a government program or policy development that has positively impacted persons with a mobility disability. The recipient of our 2017-2018 award is the KV Old Boys.
Established in 2003, the KV Old Boys have been an integral part of the Kennebecasis Valley Community. With a motto of "making a good community better", this group of approximately 25 dedicated men focus on assisting individuals, families and organizations in need within the community. One hundred per cent (100%) of their funds raised go back into the community.
They have made a tremendous contribution to Ability NB and those living with a mobility disability in the following ways: helped install a porch lift, constructed and help fund numerous ramps to ensure citizens have access to their homes, helped cover the cost of a co-payment for a power wheelchair, purchased grab bars for someone and provided financial aid to help an individual complete his vehicle retrofit.
The KV Old Boys carefully consider all requests big and small and if they are unable to provide help directly, will go above and beyond to help source out other funding in the community. Ability NB is proud to call them a caring community partner!