Volunteer Award of Excellence: Amélie Archer
Our Volunteer Award of Excellence is presented annually to an individual or group who demonstrates outstanding initiative and leadership in their volunteer work with Ability NB. The recipient of our 2018-2019 award is Amélie Archer.
Amélie is studying recreation/leisure at the Université de Moncton and she is currently in her 3rd year. Amélie developed a go-getter attitude at a young age. She was born with Cerebral Palsy which limits her mobility, causes her to have spasms in all four of her limbs and causes her to have difficulties with communicating with words. Having faced many barriers throughout her life, she has been able to overcome them by being resourceful and persistent.
Amélie's commitment to our organization is incredible. Here are some of the many things she has supported us with:
She's participated in our focus group to help us develop the soon to be released Transition Planning Guide for youth with a disability.
She has shared her success story to help us inform the general population about our services and reach other individuals with a mobility disability.
She was an active member of our organizing committee during the inaugural Wheelchair Challenge in Moncton in 2018.
She has donated her original works of art for us to sell at our auctions.
She has offered her time as a peer mentor to others.
Thank you Amélie for your excellence in your volunteer work with Ability NB and your dedication to our organization and others with a mobility disability.
Ambassador of the Year Award – Avery White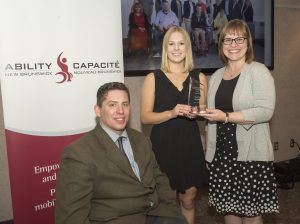 Our Ambassador of the Year Award is presented annually to a person who has been a strong ambassador for our organization, persons with a mobility disability or disability issues. Recipient of a 2018-2019 Ambassador of the Year Awards is Avery White of Fredericton, NB.
Avery is a grade 12 student at Leo Hayes High School who has her sights on being a lawyer. Avery started volunteering for Ability NB as a live auction item model in our annual art & antique auction at 11 years of age. She continues to volunteer and help with our Para NB program, participates in our events and follows and shares our social media stories.
Avery has a passion for accessible communities. And her advocacy skills were highlighted in 2015 when she was a student at Devon Middle School and wrote an influential letter to the school superintendent about the need for a ramp for the front door of the school. Here is an excerpt from that letter:
"It's not right for people in situations like this, as it is discriminating for them. People have been fighting for decades to give people equal rights regardless of race, gender, language and disABILITIES. In a country as progressive as Canada why are we today still discussing accessibility issues? They shouldn't have to go to the back of the school and go through all this work to get into the school that's not fair to them. In today's society it's hard enough to be a student let alone a student with a mobility disABILITY. Shouldn't school be a place where they can come with fewer challenges? I know what it's like to have a family member face mobility challenges, my Uncle is in a wheelchair, and I know it's hard for him to access some places or he can't even get into places."
When asked why creating awareness of disability issues is important to her, Avery noted: "If I can help at least one person or make a difference then I've won the lottery in my eyes. That's why I do it."
Thank you Avery for being true champions of ability and accessibility!
Ambassador of the Year Award: Colin Kennedy Robichaud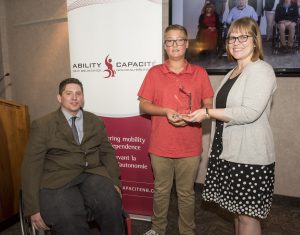 Our Ambassador of the Year Award is presented annually to a person who has been a strong ambassador for our organization, persons with a mobility disability or disability issues. The recipient of a 2018-2019 Ambassador of the Year Award is Colin Kennedy Robichaud of Moncton, NB.
Colin is a grade 10 student at Moncton high school and is the son of proud parents Jeff Kennedy and Yves Robichaud. His talents and skills are impressive – he is in French immersion, he is involved in drama, takes guitar lessons and helps with many fundraisers throughout the year. He is also involved with the NB Adoption Foundation and has shared his story locally and nationally on his adoption experiences. He is also a major champion of the belief that "Everyone plays". Colin was one of the honorary campaign co-chairs for the "Becca told me to" campaign to build the accessible All World Super Play Park near Frank L. Bowser School in Riverview and played a major role in raising over $650,000 and a lot of in-kind support.
Colin believes Becca's kindness campaign reached far and wide and he was quoted in media with saying "The whole world knows Becca Schofield, the girl who had one simple hashtag that changed social media, changed people's lives. It changed the whole world and when Becca passed on, the world stopped spinning for a second, and then continued."
Thank you Colin for being a kindness, inclusion and accessibility leader in NB and for your work to ensure "Everyone plays."
Para Sport & Recreation Award: Jill Fletcher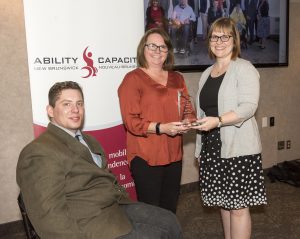 Our Para Sport & Recreation Award is presented annually to an individual, group or organization that has made a significant contribution to parallel sport and recreation in New Brunswick in areas such as competition and achievement, program development, officiating or coaching. The recipient of our 2018-2019 award is Lynn Fletcher – Occupational Therapist at Horizon's Saint John Regional Hospital and Project Lead at Fundy Para Ice Hockey.
Lynn has demonstrated great leadership in offering para ice hockey to residents with and without a disability in the Greater Saint John area so that they could learn fundamental movement skills together. During the creation of the Fundy Para Ice Hockey program, Lynn recruited a team of not-for-profit organizations as well as both municipal and provincial government officials for the planning, funding, and execution of the program. She was also able to recruit her fellow occupational therapists and physiotherapists to volunteer their time over 6 weekends. On the ice, Lynn brainstormed creative ways to adapt the use of the sledge hockey sticks with persons with limited grip strength, and proved to be as innovative as she is resourceful in building a team.
It was during the PyeongChang Winter Olympics that a Canadian Tire commercial inspired Lynn to create the Fundy Para Ice Hockey program in the Greater Saint John area. In the commercial, a father brings his son to a pond to play ice hockey. Since the young boy uses a wheelchair, his father fits him in a sledge and the boy starts playing Canada's favorite sport with no barriers.
A year later, Lynn and four of her coworkers at Horizon founded the first para ice hockey program in the Greater Saint John area. Little did she know at the time that her efforts would lead to a success story similar to the Canadian Tire commercial. This program allowed Ryder, a 9-year old with Cerebral Palsy from the Saint John area, to play a full game alongside his father and his peers on the ice for the first time in his life. He even had a cheering section in the stands with his mother and brother chanting his name every time he touched the puck. When interviewed by the Telegraph Journal, Ryder felt empowered as his exact words were "I like it because it's actually something I can do, and I don't need someone helping me".
Over 20 people participated in the program and every single one of them had a smile at the end of each session. The positive experience for all participants was a direct result of your passion and dedication to ensure that "Everyone Plays!". We at Para NB want to thank you, Lynn Fletcher! New Brunswick needs more community leaders like you!
Excellence in Leadership Award: Wendy Scott
Our Excellence in Leadership Award is presented annually to an employee who has exhibited proactive leadership and a strong commitment to policies and practices that support quality work and learning environments. This individual demonstrates creativity, fosters a supportive and collegial team environment and demonstrates exemplary relationship building both within and outside of the organization. This award is voted on by the staff team. The recipient of our 2018-2019 award is Wendy Scott, a Coordinator with our Para NB program.
Wendy began as an administrative support volunteer in October 2015 and we recognized right away that this was someone we needed on our team. Wendy was hired in the position of Coordinator, for the Para NB program, in January 2017 and will celebrate 3 years with Ability NB in January. Her dedication and leadership in the organization continues to grow and she has recently championed new initiatives such as our Wellness Committee and has taken a leadership role in conducting accessibility reviews and providing training on the reviews. Here's what her team had to say about her leadership:
"She is extremely passionate and dedicated about her work."
"She is honest and caring."
"She is ALWAYS willing to help her co-workers no matter what needs to be done."
"She always willing to learn new things."
"Her positive attitude inspires me."
"Wendy has an innate ability to motivate others and lead with a positive attitude. She is up for anything and goes above and beyond in her role. Wendy never turns down a challenge and greets every opportunity with ambition."
"Wendy always makes you feel like you are important and see's the good in everything."
"She's always there to listen."
"She's not afraid of asking questions."
"She truly cares about our staff and service participants."
"She is an excellent promoter of our programs and services."
"She always has snacks for road trips".
Thank you Wendy for your significant leadership and commitment to Ability NB and persons with a mobility disability.