Ability NB was pleased to present the following Caring Community Partner Award in 2014: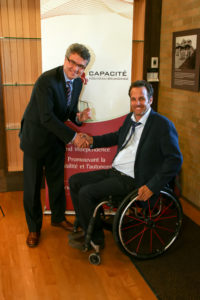 Greg Thompson – Our Caring Community Partner Award is awarded annually to a person or organization that has made a significant contribution to Ability NB such as a commitment to service, in-kind or volunteer support, or a government program or policy development that has positively impacted persons with a mobility disability. The recipient of a 2013-2014 award is Greg Thompson.
After pressure from disability groups to create an enhanced barrier free regulation, in 2010 the Department of Public Safety invited Ability NB to join the very large Building Safety Advisory Committee – the vehicle they believed would best lead the development of a new barrier free regulation for NB. As a project manager with the Department, Greg quickly identified that a small working group was needed to work on the regulation and he created this group with representatives of the Department and with community partners including Ability NB. Three years of research, consultation, writing and hard work began.
Greg was instrumental in leading proposed changes to the Community Planning Act to modernize and enhance provincial building standards to ensure accessibility for persons with a disability. In the fall of 2013, with changes at the Department of Public Safety and with Greg accepting a new position with the Department of Health, there were concerns that the regulation had stalled and that the regulation would be further delayed. Very committed to this initiative, Greg quickly accepted a request to work with Public Safety to ensure that the amendments to the Community Planning Act would be presented in Legislature in the spring of 2014…and they did.
The amendments will make adoption of the barrier-free regulation – which is now voluntary – mandatory for new construction province-wide. This regulation will ensure that newly constructed buildings will be more accessible by addressing issues such as parking areas, entrances, washrooms, accessibility signs, exterior walks, doorways, doors, counters a nd shelving. Ultimately, the new regulation will ensure New Brunswickers have access to buildings that are built to a safe and appropriate standard and that persons with a disability have access to barrier-free facilities that will improve safety and quality of life. As a result of a truly collaborative effort and Greg's commitment and leadership, the historical changes to the regulation come into effect January 1, 2015.
Greg has a Bachelor of Arts from St. Thomas University, served in the United States Army Signal Corps, was deployed to Southwest Asia during Operation Desert Storm and most recently has worked for 12 years with the Government of NB. He has recently returned to Public Safety in a new role as Policy Analyst. Greg lives in Fredericton with his wife Jennifer – they have been married for 25 years.