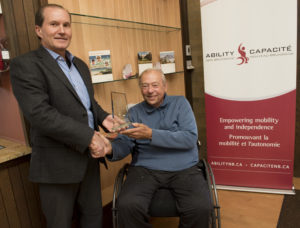 Mer & Soleil – Our Caring Corporate Partner Award is presented annually to a business that has made outstanding financial and/or in-kind, including volunteer, contributions to our organization. The recipient of our 2015-2016 Caring Corporate Partner Awards is Mer & Soleil.
Ability NB's relationship with Mer & Soleil started in 2011, when Mer & Soleil first joined Ability NB in Officers' Square Feast in the Field as a beverage exhibitor and they have been involved in Feast in the Field as an exhibitor ever since. Each year, Mer & Soleil brings their best to Feast in the Field, offering our guests unique and well-loved beverages to sample. In fact, in the last 5 years, we have had the pleasure of tasting 34 Mer & Soleil products, totaling over $5,000 in product donated to this event.
In 2014, Mer & Soleil's Rob Daigle joined the ranks of our Feast in the Field planning committee and his experience with the event and knowledge of the beverage industry were invaluable. Rob also leveraged his own contacts with chefs and restaurant owners in the area to increase the food exhibitors for the event. Rob helped us to create one of our highest grossing Feast in the Field events to date that year. Without hesitation, Mer & Soleil took on the challenge of being the sole beverage exhibitors for our new VIP experience in 2016. Rob also played an integral role in securing and collaborating with the food exhibitor for that portion of our event. Our guests were pleased with this additional offering which added new revenue of $2,500 for 2016's Feast in the Field!