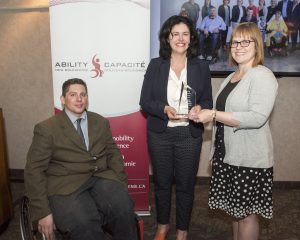 Caring Community Partner Award: Saint John Community Foundation Inc.
Our Caring Community Partner Award is awarded annually to a person or organization that has made a significant contribution to our organization such as a commitment to service, in-kind or volunteer support, or a government program or policy development that has positively impacted persons with a mobility disability. The recipient of our 2018-2019 award is the Saint John Community Foundation.
For the last 3 years, The Greater Saint John Community Foundation has been a loyal supporter of our programs, specifically the Para NB – Sport & Recreation program, with grants amounting to $50,000.
This funding has significantly impacted our capacity to grow the Para NB program. Due to your willingness to support our program precisely where we need the money, whether that be travel, equipment, or staff, we have fulfilled all 275 equipment loan requests in the greater Saint John region over the last 3 years and we have added 89 pieces of adapted equipment to our inventory.
Thanks to the Foundation's promotion of our programs, we have also seen an increase in the number of service participants in the Greater Saint John region using all of our services.
We know your support has played a vital role in getting closer to fulfilling our Para NB slogan "everyone plays."
If it wasn't enough to fund us directly, The Greater Saint John Community Foundation also led us to additional funding sources.
We know from working with you for the last 3 years that you genuinely care as much as we do about people with a mobility disability. Thank you.