Volunteer Award of Excellence: Gillian Hoyt-Hallett
Our Volunteer Award of Excellence is presented annually to an individual or group who demonstrates outstanding initiative and leadership in their volunteer work with Ability NB. The recipient of our 2017-2018 award is Gillian Hoyt-Hallett.
After a return home to New Brunswick from Alberta, Gillian joined the Ability NB Board of Directors in April 2013 and was quickly appointed to leadership positions. She has served terms as Vice President and President. During the day, Gillian is the Administrative Director of the Stan Cassidy Centre for Rehabilitation. She leads the overall operations and day to day administration of the Stan Cassidy and oversees the planning and development of the adult, paediatric and assistive technology service areas. Gillian is a licensed occupational therapist and holds a Bachelor of Science degree from Queen's University and a Master's of Science degree from Dalhousie University.
Gillian has brought a wealth of experience in the disABILITY and health sectors, governance, planning and performance management. She has been a committed and engaged Board member and coach for our Executive Director.
Here is what her fellow Board members had to say:
"She brings poise and grace."
"My experience with Gillian has left me with a feeling of a very gracious, friendly caring person and someone we can be very proud of."
"She has led us through some difficult government negotiations with great discipline, assertiveness ultimately positive results"
"Gillian is a builder, a connector and demonstrates Ability NB core values in everything she does."
"She runs a darn good meeting."
Thank you Gillian for your gifts of experience, time, mentoring and passion to Ability NB.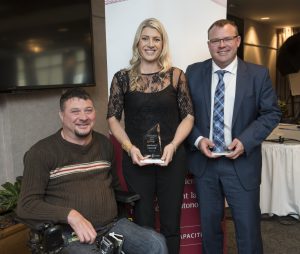 Ambassadors of the Year – T.J. Harvey and Courtenay Brennan
Our Ambassador of the Year Award is presented annually to a person affiliated with our organization who has been a strong ambassador for our organization, persons with a mobility disability or disability issues. Recipients of a 2017-2018 Ambassador of the Year Awards are TJ Harvey and Courtenay Brennan of Carleton County.
Thomas J. (TJ) Harvey is the Member of Parliament for Tobique-Mactaquac. TJ is a vocal and tireless advocate on the issues most important to New Brunswickers. He works hard to bring the concerns of his constituents to the forefront and knows the importance of healthy and vibrant rural communities.
Courtenay Brennan was the first ever Manager of our Para NB – Sport and Recreation program and founded Canada's first ever provincial adapted equipment loan service for persons with a physical disability.
Both TJ and Courtenay share a passion for accessible communities where everyone has the opportunity to live as independently as possible, work and play. Courtenay was the driver in the Ability NB Board of Director's official paper on VisitABILITY in May 2017. Our partnership, and their research and commitment led to the first ever motion on VisitABILITY (M-157), led by TJ, in the House of Commons, which has engaged a national and provincial conversation. Visitable housing offers a convenient, age-friendly home and a welcoming environment for visitors of all ages and abilities. Visitable housing benefits everyone – seniors, persons with a disability, parents, children and families.
Thank you TJ and Courtenay for being true champions of ability, accessibility and visitability!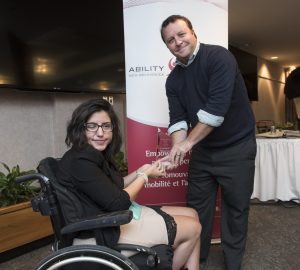 Ambassador of the Year Award: Cassandra Mazariegos
Our Ambassador of the Year Award is presented annually to a person affiliated with Ability NB who has been a strong ambassador for our organization, persons with a mobility disability or disability issues. The recipient of a 2017-2018 Ambassador of the Year Award is Cassandra Mazariegos of Fredericton, NB.
Cass is a budding entrepreneur with an astounding amount of talent. Cass experienced a stroke at the age of 22, which impacted her mobility, dexterity and vision, as well as other aspects of her life. Instead of turning away from her interest in the arts, Cass chose to turn these barriers into strengths when it comes to completing her art, more specifically her painting. Cass creates beautiful, original pieces that she then markets and sells herself. She attends craft fairs, markets and operates her business online.
Cass has been involved with Ability NB as a service participant with the Transition NB program and as a volunteer. She is kind, loves people and is always up for new experiences. She utilizes her outgoing personality to make connections everywhere she goes and continues to make positive change here in New Brunswick by advocating on behalf of individuals living with disability. She was highlighted in the United Way Central NB Campaign kick off because of her determination and resilience. Cass is always open to sharing her story with others, to show what great things can happen with perseverance and hard work. She was quoted saying, 'I can still do things everyone else can do, I just have to do them differently'.
Para Sport & Recreation Award: Robin Buchanan, Oromocto High School
Our Para Sport & Recreation Award is presented annually to an individual, group or organization that has made a significant contribution to parallel sport and recreation in New Brunswick in areas such as competition and achievement, program development, officiating or coaching. The recipient of our 2017-2018 award is Robin Buchanan – physical education specialist at Oromocto High School.
Robin is a champion for inclusive physical education and parallel sport and recreation and he truly believes that at his school "Everyone Plays." He has demonstrated leadership in offering various parallel sport and recreation activities so students with and without a disability can learn fundamental movement skills together. From the inception of Para NB Equipment Loan Service, Robin has been one of our most frequent borrowers. He borrows equipment for their annual Terry Fox Walk, for various physical education classes and we particularly enjoyed his video featuring a race to Para NB on a handcycle for Disability Awareness Week! We recently discovered that his dedication to making sure everyone plays extends beyond just his students. One of his interns is now following in his footsteps at Bathurst High School, committed to making her classes inclusive for all. We at Para NB want to thank you, Robin Buchanan! New Brunswick needs more teachers like you!