Volunteer Award of Excellence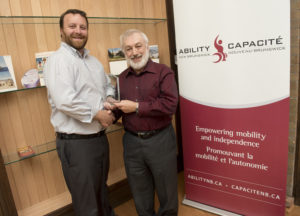 Ron Harris – Our Volunteer Award of Excellence is presented annually to an individual or group who demonstrates outstanding initiative and leadership in their volunteer work with Ability NB. A recipient of our 2015-2016 Volunteer Award of Excellence is Ron Harris.
Ron joined the Ability NB Board in June 2003 and was President from 2004 to 2008. A clinical psychologist and the retired Administrative Director of the Stan Cassidy Centre for Rehabilitation, Ron believes in empowering people and organizations. While at the Stan Cassidy Centre, he was once quoted for our organizational pamphlet as saying: "If you are looking for the best in rehabilitation of persons with a spinal cord injury or other mobility disability, it can be found in the partnership between the Stan Cassidy Centre and Ability NB." His passion for social policy and social justice to enhance the lives of persons with a mobility disability has increased the visibility and involvement of Ability NB in public policy development. For thirteen years, Ron has been an incredible coach and mentor to the staff and Board and has guided the organization through difficult decisions and successful transitions. His belief in ability, his sense of humour and his calm and focused leadership have been foundational in helping Ability NB grow and reach more people who need our leadership. Thank you, Ron, for continuously sharing your talents with Ability NB.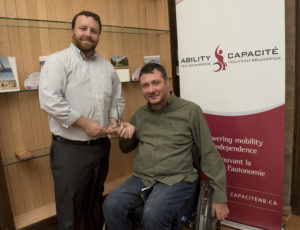 Bill Leonard – A recipient of our 2015-2016 Volunteer Award of Excellence is Bill Leonard.Bill joined the Board of Directors in 2007 and has served in several Executive Committee roles: Treasurer in 2012-2013, Vice-President in 2013-2014 and most recently as President since 2014. For over 9 years, Bill has led by example; he rarely misses a Board meeting, has been an exceptional advocate for our organization and persons with a mobility disability and rolls his sleeves up to help out at events and whenever we need a hand. Bill has also been an exceptional coach and mentor to our Executive Director. A manager with the Department of Transportation & Infrastructure, Bill's skills in planning, finance and administration have been key assets to Ability NB. When asked recently, why he joined the Board, Bill offered: "Board members all have their own reasons for joining: whether it's to give back to an organization that assisted themselves, a close friend or family member in the past; or perhaps an internal altruistic drive to improve the community in which they live. My rationale for joining the Board would span the ranges of reasons mentioned and I am proud to be associated with the team."
Thank you, Bill, for your leadership and dedication!
Wendy Scott – A recipient of our 2015-2016 Volunteer Award of Excellence is Wendy Scott.In the Fall of 2015, our Director of Development let us know she had a potential volunteer that we just had to meet. The organization was growing, the phones were ringing more with people reaching out to our organization, and we needed some help to back up our Administrative Assistant who was swamped with growing responsibilities. While Wendy answered our call for more office support, Wendy has offered much more than just answering the phones.
Wendy has been a first contact and ear for people with a mobility disability and their family members who call our organization with difficult stories and who need our help. She is a proofreader extraordinaire, a constant source of positivity and has provided much needed assistance to our fundraising events. When we propose a new project or activity, she is always eager to help our team and the organization in any way possible. She has also demonstrated that volunteer work leads to paid employment and she has recently begun working for our organization two days per week. Thank you, Wendy, for your commitment to Ability NB and persons with a mobility disability!
Ambassador of the Year Award
George Woodworth – Our Ambassador of the Year Award is presented annually to a person affiliated with our organization who has been a strong ambassador for our organization, persons with a mobility disability or disability issues. The recipient of our 2015-2016 Ambassador of the Year Award is George Woodworth of Fredericton, NB.When we are asked "Who are the people Ability NB can count on the most?", George Woodworth is at the top of the list. In our field, it is often very difficult for persons with a mobility disability to share their experiences, but George thrives on sharing his story. Whether it is a feature on Ability NB in the newspaper, his profile on social media or an interview about entrepreneurship and his woodworking business in the magazine Huddle Today, George never hesitates to tell his story in the event that it has an impact on one person or many.
George was recently nominated by Ability NB for the Songs of the City initiative hosted by the United Way Central NB. For this initiative, songwriters were matched with individuals who have benefitted from United Way Central NB programs to write songs that tell the individual's story. George worked with musician, Tim Walker, on a song called "Mama's Never Wrong" that was premiered in October 2016 in performances in Oromocto and Moncton.
George exemplifies the values that are important to Ability NB including family, passion, humour and entrepreneurship. Thank you George for being an ambassador for people with a disability and Ability NB.
Para Sport & Recreation Award
Nashwaaksis Middle School – Our Para Sport & Recreation Award is presented annually to an individual, group or organization that has made a significant contribution to parallel sport and recreation in New Brunswick in areas such as competition and achievement, program development, officiating or coaching. The recipient of our 2015-2016 award is Nashwaaksis Middle School.Nashwaaksis Middle School is a champion for inclusive physical education and parallel sport and recreation and they truly believe that at their school "Everybody plays." Through their Move-A-Thons, the students at Nashwaaksis Middle School demonstrate leadership in offering various parallel sport and recreation activities so students with and without a disability can learn fundamental movement skills together and raise funds for the Para NB program. Over a two year period in 2014 and 2015, students raised over $2,000 and purchased a handcycle and a sledge for the Para NB provincial Equipment Loan Service so more students throughout New Brunswick can benefit from access to this costly adapted equipment. Thank you to Nashwaaksis Middle School for your leadership!