Volunteer Award of Excellence
Sara McElman – Our Volunteer Award of Excellence is awarded annually to an individual or group who demonstrates outstanding initiative and leadership in their volunteer work with Ability NB. The recipient of the 2012-2013 award is Ability NB Board member Sara McElman. Sara is a compassionate and caring Board member who believes in the mission of Ability NB. Sara has served on our Board of Directors since 1994 and held the position of Vice-President from 1999-2007. She served on the Art & Antique Auction Committee for several years and was an active participant in the Board of Directors Para-Skate team. Sara is always first to pick up tickets and promote our events. Sara is an incredible leader who continues to invest her time, passion and commitment to Ability NB – through good times, rough times and all of our successes. Her consistent leadership, calming approach and voice of reason are true assets to Ability NB. Sara has served with the Fredericton Police Force for over 23 years. She is currently a Detective and has served in the Economic Crime Unit of the Major Crime Team for 8 years. We were pleased to present Sara with this Volunteer Award of Excellence.
Ambassador of the Year
Spencer Price –Whether it is starring in an Ability NB video about sport and active living, practicing wheelchair tennis or competing in wheelchair basketball, 12 year old Spencer is continuously showing other youth with a mobility disability that anything is possible. He has never let his spinal cord injury in 2008 hold him back. During the last year, he had the opportunity to speak with the Minister of Education & Early Childhood Development and Minister of Healthy & Inclusive Communities at Ability NB events about his passion for sport and active living. Spencer is currently trying out for the 2015 Canada Games Wheelchair Basketball team and actively participating in practices and tournaments. His positivity and determination is a model for others – youth and adults alike. Spencer is currently in grade 7 at Harvey High School and is a kind and caring supporter of Ability NB. He is an incredible ambassador and we were pleased to present him with this Ambassador of the Year Award.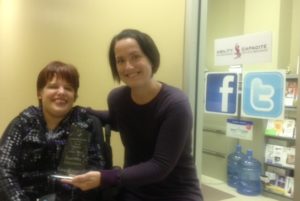 Kourtney Stevenson – Kourtney is a positive 23 year old from Moncton and an incredible ambassador for Ability NB. Kourtney is always eager to lend a hand to Ability NB when we ask for help. She volunteered to be interviewed in a recent Times and Transcript newspaper article about the work that Ability NB does in Moncton and its impact in the community. She has taken two of our empowerment programs and shared her photo in the promotional materials as part of the PX2® empowerment program. She was also featured in the Ability NB promotional video and in our soon to be launched Giving Program materials. She is a consistent participant in local events including active living events. Kourtney is very resourceful, always smiling and a true leader for others living with a disability. We were pleased to present Kourtney with her Ambassador of the Year Award recently in Moncton.
Para Sport & Recreation Award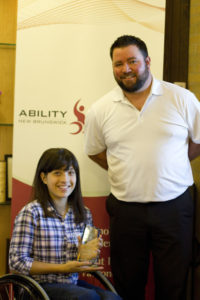 Veronica Coombes – Our Para Sport & Recreation Award is presented annually to an individual, group or organization that has made a significant contribution to para sport and recreation in New Brunswick in areas such as competition and achievement, program development, officiating or coaching. The recipient of our 2012-2013 award is Veronica Coombes of Shediac Cape. The year 2013 marked an amazing year for this 15-year-old athlete! She not only set 6 provincial records but she established herself among the best wheelchair racers in all of Canada. She competed at her first National Championships in Moncton where she captured a silver medal in the 100m and a bronze medal in the 200m. However the highlight of her season was her performance at the Canada Summer Games where she became New Brunswick's first ever medalist in Para Athletics by capturing 3 silver medals! More impressive is that in her 1500m she not only set a new provincial record but also had a personal best by over 20 seconds! At the conclusion of the 2013 season Veronica Coombes was ranked 3rd in Canada in the 100m, 200m, 400m, 800m and 1500m events. She is a very dedicated athlete and always willing to help newer athletes at various practices and clinics. She is always the first athlete to show up to practice and often the last one to leave. She works hard and never complains even when the workouts are physically demanding. She is a true game changer in para sport! We were pleased to present our 2012-2013 Para Sport & Recreation Award to Veronica Coombes.