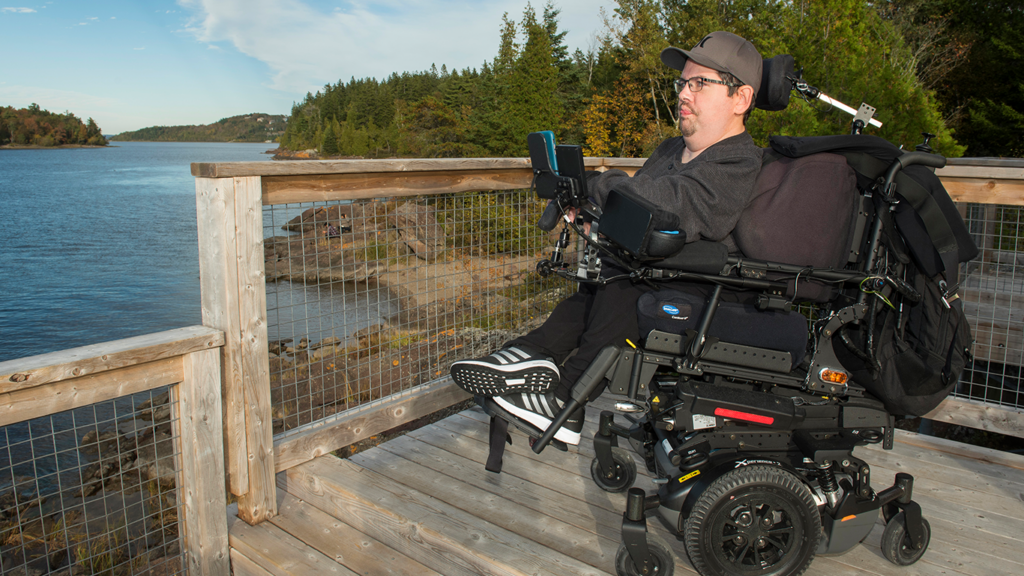 The trails and beach views of Tucker Park are treasured by many in Saint John, and efforts are underway to ensure the park is accessible to everyone, including those with a disability and mobility issues.
B. J. MacDonald, a member of Tucker Park's board of directors, says a key goal is to make Tucker Park welcoming and accessible for the enjoyment of all people. The park is located in the north end of the city and is renowned for its unspoiled views of the Kennebecasis River.
"We realized that we needed to make improvements to the park and Ability New Brunswick had the expertise to do the best accessibility assessment for us," B.J. says. "Now that we have their very thorough report, we have a game plan and we can do, by increments, the things they have recommended. We will follow their report as a way to make the park more accessible."
Ability New Brunswick, through its Para New Brunswick program, provides free accessibility reviews of sport and recreation facilities, parks, playgrounds, trails, beaches, schools, churches, and more to promote a truly inclusive environment for those with a mobility disability. 
The reviews incorporate the most recent standards and meet or exceed all New Brunswick codes and regulations. A detailed report with all findings and regulations, and possible funding sources to help fund any renovations or adaptations needed, is provided upon completion of a review.
B.J. says the accessibility review on Tucker Park is "a very important document for us" that will be used to guide future improvements to ensure that everyone can enjoy the natural beauty of the area.
Among its recommendations is a ramp to the beach and additions to the popular observation platform to make it safer for people with mobility issues, additional designated parking spots, accessible port-a-potties and more accessible picnic tables.
Jeff Sparks, a Quispamsis resident who uses a power wheelchair, says the improvements will allow him and countless others to better enjoy the park.
"Access to the beach would allow me to enjoy the beach and picnic areas with friends and family," Jeff says. "I really appreciate the opportunity to get out to see Tucker Park and other scenic areas of our province."
The work is being done in collaboration with the City of Saint John, which is supporting the goal of improving access to parks and recreational facilities.
"We want Tucker Park to be a shining example of an accessible park. We want people in wheelchairs to be able to get right to the water and not have obstacles in their way and railings that affect sight lines," says Emilie Murphy, community services supervisor for the City of Saint John.
"People will never protect what they can't experience so we want to get people out in the forests, enjoying the trails, and close to the water. It's critically important for the future sustainability of our parks."