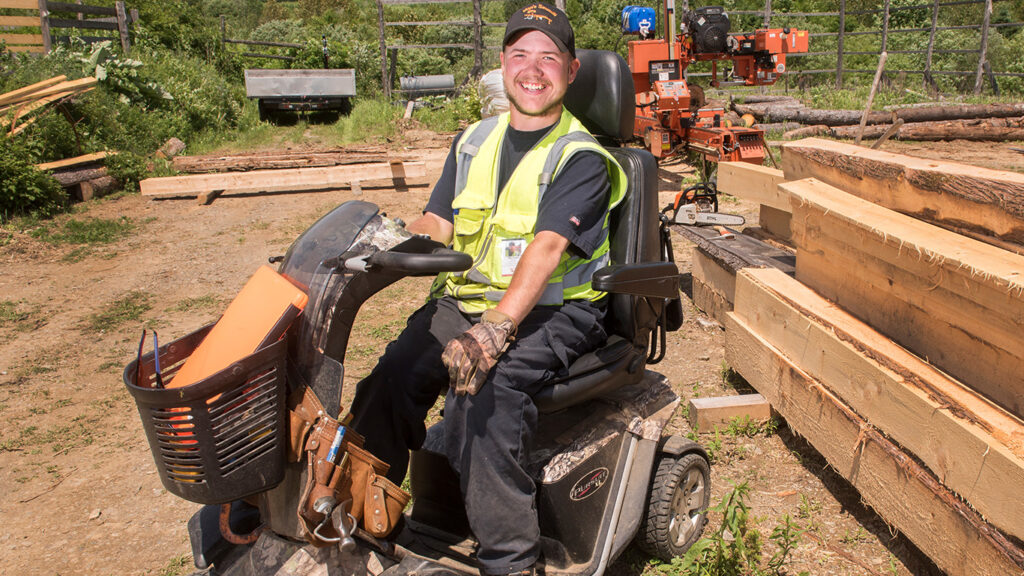 Mac Dugan has big plans for his sawmill and furniture-making business, plans the resident of Moose Mountain, N.B., never would have thought possible just three years ago.
Mac, 23, has cerebral palsy and up until the establishment of his business, Mac's Sawmill, in 2021, he viewed his wood-working endeavours as little more than a hobby.
All that changed when Ability New Brunswick introduced Mac to its Transition NB program and a whole new world opened up to the young entrepreneur.
"Ability New Brunswick and Transition NB have broadened my view of what I can do in life," Mac says from his sawmill at Moose Mountain, near Bath in western New Brunswick.
"Before them, I basically had no idea what was out there in terms of programs and assistance. I've been working with Ability New Brunswick for three or four years and I have come a long way because of their help."
Mac is the sole proprietor of his sawmill business, which he officially launched last year. He said the Transition NB program put him in contact with the Community Business Development Corporation, a not-for-profit organization that assists in the creation of small businesses and the expansion of existing businesses by providing financial and technical services to entrepreneurs.
The Transition NB program works one-on-one with people under the age of 30 living with a mobility disability to help them reach their education and career goals.
Mac especially enjoys the furniture-making aspect of his business and has plans to do more design work in the future.
"I would totally recommend Ability New Brunswick to someone looking for help to get ahead," he says. "I give them five stars."