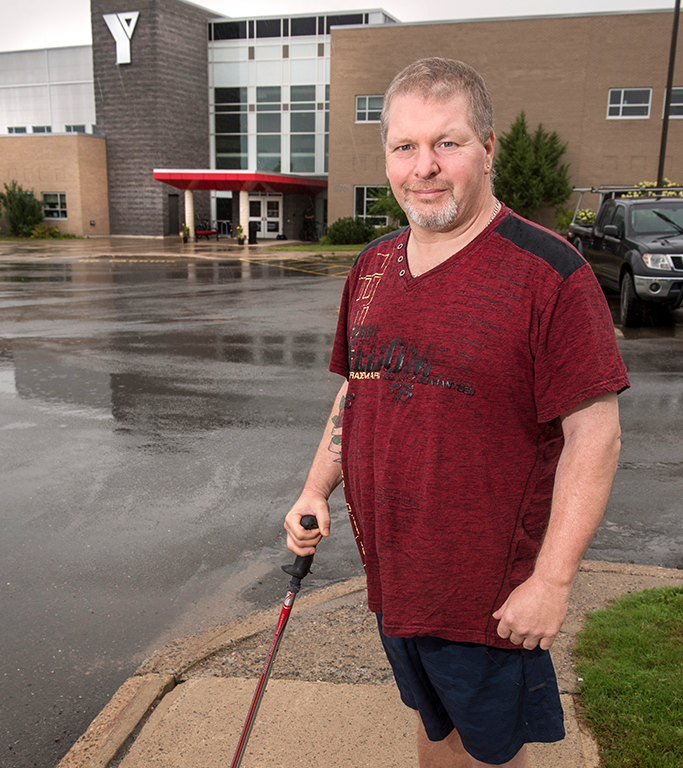 Kevin Brawn had pretty much reached bottom when he accepted the help offered to him through Ability New Brunswick.
He credits that for turning his life around.
Kevin, 51, was living rough at a camp on the Dungarvon, near Renous, N.B. after he returned to his native New Brunswick following several years in Alberta. Dealing with poorly controlled diabetes and the effects of a stroke that impedes movement on his left side, Kevin says he had no money and no prospects.
It was the Heart and Stroke Foundation that put him in touch with Ability New Brunswick. Then Ability New Brunswick, together with NB Housing, found him a subsidized apartment in Fredericton and he moved to the capital where he could be closer to medical care.
Ability New Brunswick also arranged for home support, secured diabetes medical equipment and got Kevin approved for a subsidized membership at the YMCA.
"I'm in a much better place now than I was when I first got back to New Brunswick," Kevin says.
"Things are definitely looking up."
Kevin is especially grateful to Rebecca Graham, a rehabilitation counsellor with Ability New Brunswick, who was a driving force in getting Kevin the help he needed.
"She knows how to crack the whip and get stuff done," Kevin says. "If it wasn't for her I would have nothing. I feel like Ability New Brunswick went over and above what was expected and really made sure I got the help I needed."