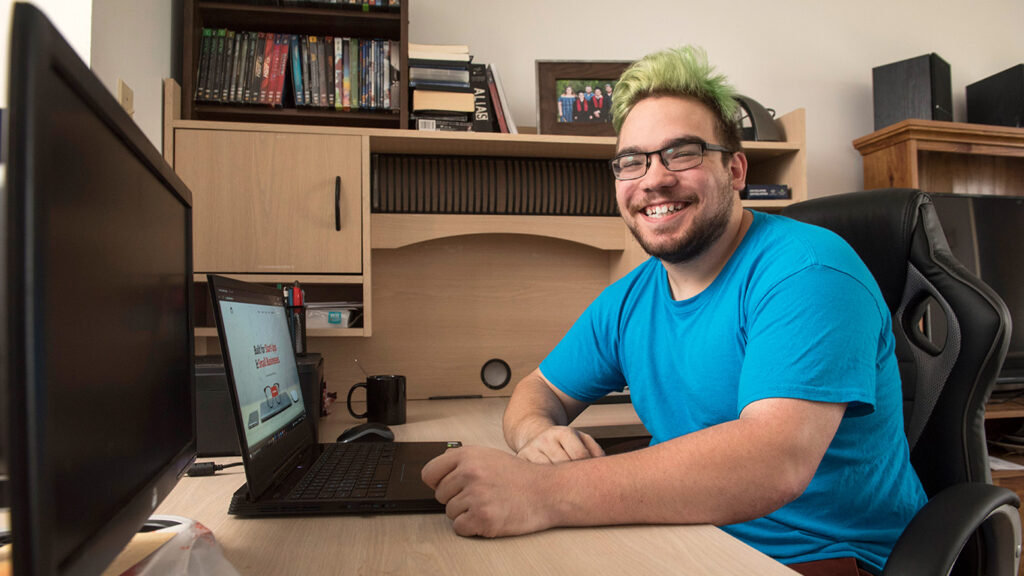 Feeling isolated and left out of activities, Kaleb was in high school in Sussex when he first reached out for help from Ability New Brunswick, and a whole new world opened up for him.
"The Ability New Brunswick team helped me get into sports and, through sports, I have made tons of amazing friends. They have an equipment loan program and that helped me a lot," Kaleb says.
"They also helped me when it came time to go to college. They helped me decide what my options were and if I needed some adaptive equipment. Because of them, I went through college, I graduated and I actually was able to start up my own business.
"I now have a full-time job," he says. "If it wasn't for Ability New Brunswick and their guidance, I wouldn't be where I am today."
Kaleb studied graphic design at the New Brunswick Community College and now is a successful graphic designer based in Moncton.
One of his greatest enjoyments is playing defence with the Fredericton Caps Para Ice Hockey team. He travels to Fredericton every week from his home in Moncton to practise with what he describes as his "amazing friends."
He also is in the process of getting his driver's licence, another area where Ability New Brunswick helped him make the necessary arrangements to get behind the wheel.
"The fact is, I wouldn't be where I am without Ability New Brunswick," Kaleb says. "They have helped me in so many ways."
Kaleb is facing a brighter future thanks to generous donors who support the mission of Ability New Brunswick, which for 65 years has been advocating for thousands of people living with disabilities.